Upcoming Symposium | Scriabin: Among the Symbolists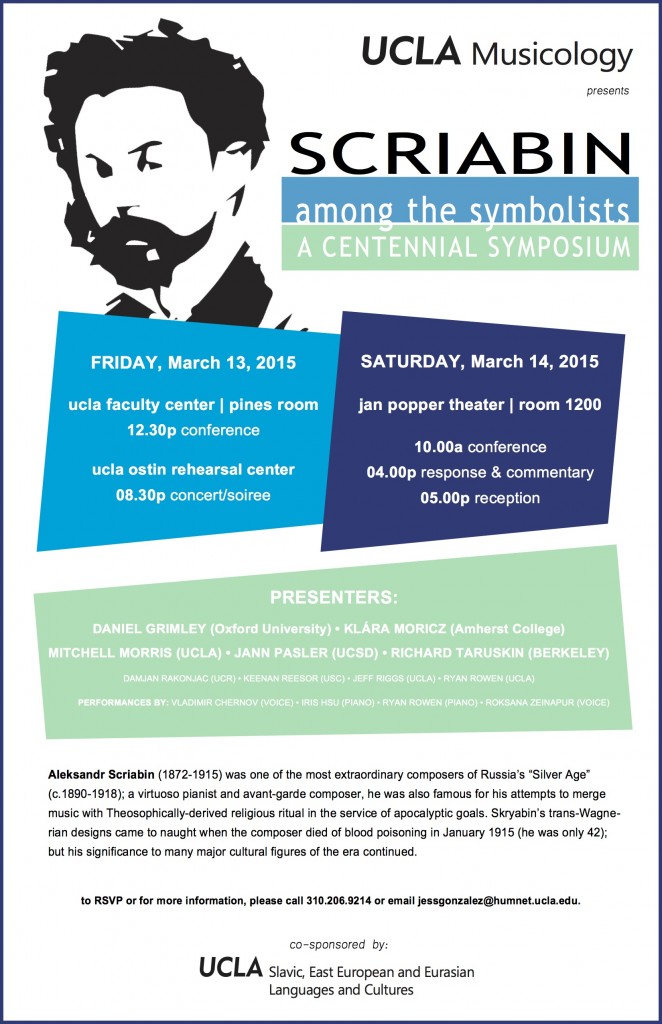 ECHO's blog is excited to publicize Scriabin: Among the Symbolists, A Centennial Symposium, co-sponsored by UCLA's Department of Musicology and the Department of Slavic, East European and Eurasian Languages and Cultures. The symposium will take place on UCLA's campus this Friday and Saturday, March 13-14, 2015. Distinguished speakers include, Daniel Grimley (Oxford), Klára Moricz (Amherst), Mitchell Morris (UCLA), Jann Pasler (UCSD), and Richard Taruskin (Berkeley). In addition to two days of paper panels, the symposium includes a concert/soirée and a roundtable session followed by a closing reception.
Please RSVP by calling 310.206.9214 or emailing Jessica Gonzalez.
Program Description:
"Aleksandr Scriabin (1872-1915) was one of the most extraordinary composers of Russia's "Silver Age" (c.1890-1918); a virtuoso pianist and avant-garde composer, he was also famous for his attempts to merge music with Theosophically-derived religious ritual in the service of apocalyptic goals. Skryabin's trans-Wagne-rian designs came to naught when the composer died of blood poisoning in January 1915 (he was only 42); but his significance to many major cultural figures of the era continued."