SOUND REVIEW
Knitting Factory Reissue Series of Ronald Shannon Jackson and the Decoding Society, KnitClassics KCR 3027-3035
In the Sixties and Seventies, jazz music took a substantial downturn in its popularity and importance to mainstream American society. Not surprisingly, the jazz economy suffered in parallel. Due in no small part both to the commercial success of rock and roll and to the difficult nature ("inaccessibility") of Sixties free jazz (or "The New Thing"), jazz was no longer a core cultural phenomenon. Even the two remaining jazz music giants of the time, Miles Davis and John Coltrane, would wander into controversial territory by the late and mid-Sixties, respectively.

Thus, when considering jazz and related improvised, western musics in the 1980s, one could potentially focus attention on the work that Wynton Marsalis and his colleagues did to regain both recognition and respectability for jazz music. While Marsalis and company had—at best—a mildly positive impact on the jazz economy, they also transformed and revitalized the music culturally and socially. Jazz became known more widely as an "American classical art form" and appeared increasingly in classrooms, auditoriums, and conservatories. The music associated with this revival was typically representative of more conservative post-bebop styles, the Miles Davis quintet of the Sixties being a standard reference point.

The Seventies and Eighties, however, were not just a time of a purely neo-conservative re-exploration of past jazz traditions. The Seventies New York City loft scene provided an environment in which artists could regroup from the hostile reception that free jazz had been given, thus allowing for further development of musical ideas broached a decade earlier. At or around the same time, the stage was being set for a "post-loft" aesthetic that, in the late Seventies and early Eighties, would use the principle of freedom to mine the entire history of jazz and other musics, resulting in the creation of a rich variety of new forms, new sounds, and new styles. The artistic freedom afforded by the loft scene combined and coincided with a late modern condition of jazz music wherein all possible styles had presumably been exhausted. In essence, the analogue of post-modernism in jazz was being born.

Henry Threadgill, James Blood Ulmer, David Murray, Anthony Davis, Oliver Lake, Arthur Blythe, and Ronald Shannon Jackson were among major participants in this "movement," synthesizing musical influences and performance styles from any number of sources: the entire history of jazz (including Sixties free jazz), rock, blues, art music, and world musics. As parallel efforts (that incorporated stylistic fusions and improvisational vocabularies) arose with musicians who were considered part of either the rock tradition or the western art music tradition, the word "jazz" itself began to lose what little meaning had not already been wrung out of it in the wake of Sixties free jazz.

As with many of the latter artists, drummer Ronald Shannon Jackson's ascent to the critical recognition and mild popular success he enjoyed in the 1980s did not come early in life. In 1979, at the age of 39, Jackson formed The Decoding Society, a medium-sized ensemble that would become an ongoing vehicle to showcase his compositional/arranging talent and his uniquely propulsive drumming style. Sadly, by the mid–1990s, Jackson had lapsed into relative obscurity alongside many of his colleagues.

In his home town of Fort Worth, Texas, Ronald Shannon Jackson's exposure to a healthy variety of vernacular musics—country, gospel, jazz, blues, and soul—and his subsequent, early performance career, were key ingredients in his artistic trajectory, culminating in the exuberant compositions and sounds of The Decoding Society. After beginning his performing career in Texas, Jackson left the southwest for New York City in 1966 and quickly found work with Betty Carter, Charles Mingus, and numerous other prominent jazz artists. His most notable affiliation during this period was with seminal free jazz figure Albert Ayler. Soon thereafter he became relatively inactive on the scene for several years.

In 1974 Jackson met Ornette Coleman, began "lessons" with Coleman on his "harmolodic" theory, and recorded and performed with the original incarnation of Coleman's Prime Time Ensemble. Jackson's career accelerated in the late Seventies as he made formidable contributions to one of Cecil Taylor's many working ensembles, and participated in the landmark James Blood Ulmer recording, Are You Glad to Be in America? Certainly, by these late Seventies recordings, Jackson's drumming was already indicative of what would become his signature style: an energetic pushing of the pulse, a loose and swinging feel, a focus on tom-tom and snare work, and the usage of parade rhythms (i.e. patterns involving repetitions of two sixteenth-notes followed by one or two eighth-notes).

Jackson gathered a combination of seasoned loft players and young, talented newcomers in 1979 as the first edition of The Decoding Society. Over the next decade, the group performed extensively and released about one recording per year. Personnel changes occurred over the years, but during the course of the Eighties and into the early Nineties there was a handful of core units anchored by some relatively long-term, primary performers. Unfortunately, Jackson's first six studio albums are out of print, despite most having seen at least a brief appearance on CD format. Jackson left New York City in the early Nineties and returned to Texas where he currently resides. Three studio Decoding Society recordings, his latest from the Nineties, document a period of seemingly sporadic activity.

Fortunately for those of us who bemoaned an almost complete disappearance of commercially available Ronald Shannon Jackson recordings, and for those who may have missed the opportunity the first time around, the Knitting Factory's KnitClassics label (a division of the jazz/pop club's Knitting Factory Records) has released nine "reissue" recordings by Jackson over the course of the year 2000, eight of which involve some version of The Decoding Society. Four out of these nine recordings were actually previously unreleased. Eight were recorded, either in the studio or live in performance during a span between 1983 and 1988, while one dates from a 1994 concert. The KnitClassics recordings provide broad coverage of Jackson and The Decoding Society's work through various editions of the band and their concomitant compositional and stylistic progression.

In response to his formulation of and early work with the Decoding Society, Jackson was critiqued as a primary participant in the so-called "new fusion" movement of the early Eighties. This movement was ostensibly derived from Coleman's then recent foray into electric music, forming a parallel to the way in which Seventies fusion emerged from the electric music of Miles Davis. Indeed, Jackson's first recording under his own name, The Decoding Society's Eye on You (About Time Records, 1980), exhibited more overt influence from Coleman than any subsequent work. Yet Eye on You was not merely an homage to Coleman, but in fact documented a new artistic voice.

For the first version of The Decoding Society, as well as most later versions, Jackson selected instrumentation with doublings similar to Coleman's Prime Time (and Free Jazz) ensemble: two or three saxophonists who each played multiple horns (or one sax and one trumpet), and initially two guitars and one bass, which quickly reversed to become one guitar (a teenage Vernon Reid who later formed Living Colour) and two basses (often in fretted/unfretted combination). Violin, vibes, and trombone made sporadic appearances and later on, lineups focusing on a core of multiple guitarists would return.

On Eye on You and subsequent early Decoding Society recordings, the ensemble's polyphonic texture was clearly rooted in Coleman's elusive "harmolodic system" which professes an equal role for harmony, movement (i.e. rhythm), and melody, and dispenses with traditional notions of key and pitch. Each instrument, in theory, would be capable of playing a rhythmic role, a harmonic role, a melodic role, or some combination thereof; a similar blurring applied to lead/soloing and accompanying roles. Moreover, Jackson's compositions did not typically focus on any one key. The combination of sharply contrasting, implied tonal centers, the predominance of polyphony over harmony, and an often heterophonic relationship (due to looseness in both rhythm and pitch) between ostensibly unison-based parts, all contributed to the prevailing tonal ambiguity.

Jackson's compositions for Eye on You were frequently built out of busy and even frenetic webs of multiple melodies and ostinato figures; the resultant energy was a reminder of Jackson's affiliation with Cecil Taylor. Multiple themes, usually carried by the horns and sometimes the guitar, were presented both as "head" melodies (at the beginning of the composition) and as material underneath one or more soloists. Melody instruments typically played either in unison or fourths. Melodic material often recalled Coleman in its simple motives and lazy, floating lyricism; at times Ayler in its urgent diatonicism; and at other times Mingus in its bluesy, spy-theme quality. Augmented seconds occasionally peppered the sound with an "eastern" sensibility. Melodies sometimes floated freely in their relationship to the pulse; sometimes they swung playfully and festively; and sometimes they serenely presented one of Jackson's gorgeous—yet still tonally ambiguous—ballads. Moreover, Jackson demonstrated an ability to develop long, snaking, sequencing melodies, something he no doubt brought with him from his experience with Coleman. Melodic development and structure formed the basis of Jackson's compositions, but free-blowing, both in solo and group configurations, abounded as well.

The Decoding Society sound was alternately (or simultaneously) hot and cool, savage and gentle, danceable and contemplative. It was a brew of African, "eastern," and American sounds. Tempo, meter, feel, and stylistic references varied across different compositions and within single compositions as well. Jackson combined his parade rhythms with soulful tenor saxophone lines, the bluesy chatter of electric guitars, and the high-pitched exoticism of soprano saxophones (and high trumpet parts). Like many of the jazz giants before him, he showed a knack for creating a big sound out of a relatively small band.

In 1981, The Decoding Society recorded and released two albums for the German Moers label. Three more releases for Island (or Antilles/Island) Records followed in 1982, 1983, and 1985 respectively. All five of the latter recordings involved a fairly stable unit whose core consisted of Jackson, Vernon Reid (now the sole guitarist and a dominant voice in the ensemble), two bassists, and two to three horns (limited to saxophones on the Moers releases and expanded to include trumpet or trombone on the Island releases).

The Moers dates (which resulted in Nasty and Street Priest) were well recorded, effectively highlighting the busy, melodic interplay of the two bassists who served less in the traditional/functional bass roles and more in melodic roles that were on par with the horns and guitar. The feel was overall more funky and the melodies more catchy than on Eye on You. Reid was given more room to stretch out, while the saxophones continued to explore the high register, and Jackson continued to embed rhythms and melodies within a polyphonic texture that exhibited Coleman's influence. Nevertheless, this music had rapidly and unquestionably become Jackson's own and the Moers recordings exhibit some of his finest work.

The Island period (starting with Man Dance and Barbecue Dog) represented the height of the group's visibility and popularity. Funk and blues gestures had become more overt than ever, contributing to a pastiche not found in the earlier work. Tempo and feel shifted rapidly from section to section. Hints of tonality, often in funk-based solo sections, could now be heard in contrast to polytonal and atonal sections. Unison sections at very fast tempos and Reid's fiery guitar work both exhibited the flashiness reminiscent of Seventies fusion, yet the signature rhythms, quirky melodies, and arranging/orchestration style assured the listener that this sound was still unmistakably Jackson's. Despite the return of the violin, the addition of the trombone, some interesting stylistic forays into country, bebop, and space funk, and the promise of a Bill Laswell production, the third Island release, Decode Yourself, is marred by a thin sound, gimmicky electronic drum and synthesizer timbres, and (surprisingly) a plodding, four-square rhythmic monotony.

The first five Knitting Factory CDs date from just after the release of Barbecue Dog in 1983, and continue through the beginning of a series in 1986 of Decoding Society recordings under the Texas-based Caravan of Dreams label. With the exception of Puttin' on Dog, these are all live recordings, and Montreux Jazz Festivalshows what the 1983 personnel could do in a live setting. Despite less than optimal recording quality, the energy and the excitement of the band shines through. Two of Jackson's sidemen contribute compositions that sound as though they were written by the leader himself. The three remaining tracks originate from Man Dance and Barbecue Dog.

Earned Dreams, recorded live at the Caravan of Dreams in 1984, features a similar band to that of Decode Yourself. The four-square, driving beat of the latter album shows up on multiple compositions here, but with a raw, swinging energy that was lacking on the studio effort. Country music is overtly referenced on the title track, and the violin is used not only for this effect, but also to help create eerie melodies and timbres throughout the recording. The final track, "Booby Trap," places a triadic, Ayler-esque melody over Jackson's marching rhythms and bubbling bass lines. In essence, this recording succeeds where Decode Yourselffailed in creating a joyous hoe-down of space-age dance music.

Beast in the Spider Bush is a reissue of the album originally entitled Live at the Caravan of Dreams (Caravan of Dreams Records, 1985). Here The Decoding Society consists of only a five-piece abbreviation of the Decode Yourself band, but is supplemented—according to the liner notes, with little or no rehearsal—by a chorus of African vocalists who double on percussion (talking drum, etc.). This collaboration is an experiment long overdue, given The Decoding Society's connection to African music. The African vocals lock into place with the band's groove and vice-versa. The material is primarily connected to the Island period, but Cary Denigris' guitar sometimes foreshadows the sound of the subsequent Caravan of Dreams albums.

Live at the Greenwich House from January 1986 is chronologically the last Knitting Factory release that includes Vernon Reid on guitar. As with Beast in the Spider Bush, the personnel is transitioning towards the ensemble that later recorded When Colors Play and Talkeye. Cary Denigris, guitar, and Eric Person, saxophone—a duo who would go on to join a quartet with drummer/leader Chico Hamilton—participate. Tonal funk grooves and chatty guitar parts abound. Despite any deficiencies in recording quality, this is a set of complex, high energy, performances.

Puttin' on Dog was originally recorded and released in 1984 as Pulse was being made with Celluloid Records. The basis of this recording was a set of solo drum and voice (both Jackson's) improvisations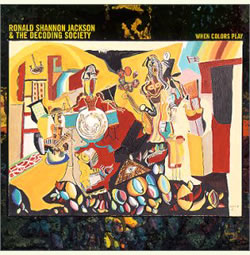 that were produced in an impromptu warm-up session before a live Decoding Society performance. A handful of later, "planned" tracks also featured solo drums with a reader (of poetry) and one solo piano piece. While he disavows "masturbation and drum solos" in the liner notes, it's enlightening to hear Jackson in a solo context; he both swings and exhibits his great power. Many of these tracks sound like the melodic/percussive underpinning of a Decoding Society composition.

In the liner notes of When Colors Play (recorded live at the Caravan of Dreams in September 1986 and reissued in the KnitClassics series), Shannon Jackson states that he's "more pleased with this music than anything I've done before." He then explains that he wrote these compositions just before and during a trip to West Africa. For Jackson, the journey was a personal and musical watershed. The metaphor of color was apparently particularly important on this set of compositions, as a different color was included in five out of the eight titles and various colors are paralleled by various musical moods.

On this recording, Jackson is unafraid to alternate beautiful, tonally focused sections with jagged material more characteristic of the earlier Decoding Society. The lineup of two guitars (Cary Denigris and Masujaa), two saxophonists (Eric Person and Zane Massey), bass (John Moody), and drums is used to great effect. Denigris and Masujaa create rich harmonic beds not found in the earlier Decoding Society, produce chatty ostinato figures reminiscent—rhythmically, not melodically—of West African highlife music, and solo with a distorted, acid-drenched flashiness that brings to mind late Miles Davis recordings (Agharta, et al.). The horns play slightly detuned, unison melody lines—with Jackson's signature snake charmer sensibility—which create a tension to contrast with the sweeter side of the overall sound. Jackson uses parade-influenced snare-and-tom patterns that rival the complexity of anything he has recorded before, while the bass anchors the ensemble.

"Green Coronas" from When Colors Play starts with a fast ostinato in fourths by the horns over a slower ostinato by one guitar, bleeding into a (signature) winding, free-rhythm, unison melody by both horns and the second guitar, while the first guitar continues with its original ostinato.

A wild guitar solo follows, accompanied by the ongoing bass guitar and rumbling snare/tom groove, and punctuated by rhythm guitar washes.

The guitar ostinato and long head melody return, followed by the original horn ostinato closing out the track. The formal arch structure is matched with a rise and fall of relative energy level (given the wildness of the solo), but the tension never really abates. "Sweet Orange" shows how to create beauty out of the simplest of melodic materials: a minor third (B-D) is repeated in groups of three over a pedal G bass and three harmonies based on second inversions of major seventh chords with top notes E, F-sharp, and G.

This is a modal environment playing off both G major and minor, with the alto saxophone blowing a lyrical solo over this initial bed. A short section of whining, bending guitar is followed by another typical, meandering, unison melody still centered around G major and minor.

This two-note motif briefly returns before a long soprano saxophone duet ensues, building in energy; the unison melody follows this solo and leads to an extended repetition of the two-note motif with alto saxophone soloing to the end.

When Colors Play balances all of the ideas Jackson had been developing over the past six years of The Decoding Society. It is "accessible," but not artistically compromising. It is flashy at times, but more often it's simply emotionally exhilarating. Jackson's liner notes were on the mark: this recording is a masterpiece.

The same personnel from When Colors Play appeared on the subsequent recording Texas (Caravan of Dreams Records, 1987) which was reissued in the Knitting Factory series as Talkeye(named after Jackson's son and the title of one of the album's compositions). These pieces were not altogether dissimilar to the sounds presented on Colors, but it's generally a less impressionistic and less intense work. Jackson is slowly leaning towards a blues influenced sound—particularly evidenced by some of the saxophone solos—that would dominate his later Decoding Society work.

Red Warrior (reissued in the Knitting Factory series) was released in 1990 on Bill Laswell's Axiom label, but was recorded in 1988 and is the first document of a new type of Decoding Society lineup: typically no horn players, but a multiple (three in this case, along with two bassists) guitars are included. Guitars are in fact now the focus of the band's sound, along with Jackson and the bassists. Tonality is as consistent and strong as ever, and grooves and rhythms lean towards funk, rock, and blues, while Jackson's drumming is still very much in his typical, free-wheeling style. Head melodies and ostinatos connect the music to the original Decoding Society, but comparisons stop at that point. The three guitarists create a raucous, southern-fried, bluesy wall of sound. The early exoticism has given way to a more earthy (and American) sound. Unfortunately, Laswell's production lacks both the warmth and depth that could have made these high-energy performances envelop the listener. A superior recording is the 1992 Raven Roc (DIW Records) which pares the personnel down to one bass and two guitars (Jef Lee Johnson and Dave Fiuczynski), but still retains a full and powerful sound.

Live in Warsaw, a previously unreleased live set from 1994, features the most pared down version of The Decoding Society, with the now prominent saxophonist James Carter, a bassist, and the Jef Lee Johnson—Jackson's latest veteran member—on guitar. This is a loose and funky affair with some fine blowing by Carter, Johnson, and Jackson. Jackson has issued just two studio recordings (on DIW) since this live date, one recorded in late 1994 (What Spirit Say) featuring the same lineup, and one recorded in Texas in 1996 (Shannon's House) which consists of a conventional lineup of drums, guitar, sax, keyboards, and bass (one each).

Before returning to Texas in the mid-90s, Ronald Shannon Jackson was in heavy demand as a New York avant-garde session player and group participant. Among others, he recorded with: composer/trombonist Garrett List; bassist/producer Bill Laswell on the excellent Basslines; with Bill Frisell and Melvin Gibbs as the trio "Power Tools;" with John Zorn on his conceptual blues piece "Two Lane Highway" featuring Albert Collins; with Murray, Ulmer, and Jamaaladeen Tacuma as the "Music Revelation Ensemble;" and with Peter Brotzmann, Sonny Sharrock, and Laswell as "Last Exit." Nevertheless, his compositions and performances with The Decoding Society solidified Jackson's reputation as a unique talent. His adaptation of Coleman's harmolodics, his appropriation of a multitude of musical styles, his incorporation of blues and funk within an improvisational context, and his energetic performance practice have undoubtedly influenced, even if indirectly, the newer generations of "jam bands" and related styles. Yet the sound of The Decoding Society, particularly from 1980 through 1987, remains as unique as ever. The combination of this band's wonderful and often exotic rhythms, melodies, and timbres has yet to be duplicated. The music of The Decoding Society is permanently relevant, and it also marks a fertile period of creativity that deserves the reinvestigation that the Knitting Factory has broached with this series.

Jeff Eldredge
Academic Information Systems
Columbia University
Further Readings

Davis, Francis. In the Moment, Jazz in the 1980's. New York: Oxford University Press, 1986. [currently out of print]
Giddins, Gary. Rhythm-a-ning, Jazz Tradition and Innovation in the '80's. New York: Oxford Press, 1986. (Includes "The Egg in the Meatloaf," an essay focused on Ronald Shannon Jackson.) [currently available via Da Capo Press edition, August 2000]
Litweiler, John. The Freedom Principle Jazz After 1958. New York: William Morrow and Company Inc., 1984. [currently available via Da Capo Press, New York, 1990]
Mandel, Howard. Future Jazz. New York: Oxford University Press, 1999.
Santoro, Gene. Dancing in Your Head, Jazz, Blues, Rock, and Beyond. New York: Oxford University Press, 1994.