Ray Hitchins, Vibe Merchants: The Sound Creators of Jamaican Popular Music, Farnham, Ashgate Publishing Ltd, « Ashgate Popular and Folk Music Series », 2014 [254 p. ISBN 978-1-4724-2186-9. (hardcover), $165; varies (ebook).]
Stuart Hall, Cultural Studies pioneer, argued that thinking of culture always as a return to roots misses the point and proposed turning to analyze "culture as routes. . . the various routes by which people travel, culture travels, culture moves, culture develops, culture changes, culture migrates, etc." I believe that Ray Hitchins has set out to complicate this formulation of "culture as routes" by asking how music technology itself travels and facilitates movement of Jamaican Popular Music (JPM) especially through innovative recording processes. Hitchins aligns Vibe Merchants: The Sound Creators of Jamaican Popular Music with Curwen Best's call for Caribbean music studies to focus on music technology as well as Best's approach to studying music "without a fixed relationship to one critical school or and its accompanying methodology or politics" (7). Hitchins has two goals: first, to give due credit to the audio engineer as musical contributor to JPM, and second, to correct assumptions that Jamaican production standards are inferior to comparable international practices. At the heart of his study is the question: what constitutes the reggae sound? Specifically, what constitutes creating, capturing, and processing that sound (2)?
He answers this question over nine chapters. Each chapter highlights an example of a recording practice or technical innovation of JPM. Hitchins's writing prioritizes clarity, close detail, and validation by every-day industry practices. His primary sources are the experiences of JPM musicians and audio engineers and his own experiences as a professional performer, programmer, audio engineer, writer and producer living in Jamaica since 1981 (1). He organizes his examples chronologically but does not seek to represent all six distinct genres of JPM: Mento, Jamaican Boogie, Ska, Rock Steady, Reggae, and Dancehall (7-9). Hitchins primarily focuses on reggae and dancehall. Using a chronological frame, Hitchins considers possible correlations between innovative recording practices and their influences on sound creation and music making. Each chapter enters at a different nexus of this correlation.
I organize the chapters into three parts here. The first reflects Jamaica's pre-independence period (before 1962) and the second and third are dedicated to the post-independence period. Chapter 1 begins to illustrate early Jamaican recording practices by considering Jamaica's first dedicated music recording studio and Stanley Motta and Ken Khouri's roles as Jamaican recording industry pioneers. Chapter 2 turns to the volley between sound creation and recording practices when Hitchins traces the influence of the sound system on local recording and the first exclusive sound system music products. Chapter 3 frames the correlation between recording practice and sound by sketching listening trends in Kingston at the turn of the 1960s and elucidating how local audiences consumed a broad range of music.
Chapter 4 discusses the birth of the modern Jamaican recording industry, highlighting Federal Records and its impact on local music making and recording models. Chapter 5 surveys the 1970s and 1980s and situates Hitchins' central correlative argument in the music production practice changes of that era. He analyzes the rise of dancehall and provides a literature review of dancehall scholarship but gives special focus to the recording practices that allow riddims to emerge. Chapter 6 focuses on the use of new digital instruments and examines the ways in which synthesizers and drum machines influenced a transition in Jamaica's dominant recording model for reggae and dancehall music. 
Chapter 7 provides an in-depth look at riddim production and riddims as created and received within local and foreign recording industry practice. He spends considerable time analyzing scholarship on the famous "Under Mi Sleng Teng" riddim (pictured below) because several scholars have slightly misrepresented the riddim and its significance in JPM. Hitchins considers the musical roles that emerge from the movement back and forth between recording practices and sound creation in Chapter 8 by analyzing the emergence of the multi-role producer in Jamaican popular music, "representing a new kind of music practitioner who was often expected to perform all aspects of the music production process" (11). Chapter 9 is a recording studio ethnography conducted in 2008.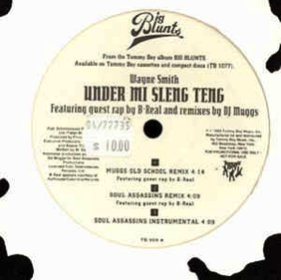 My overarching critique of Hitchins's work is that it does not accomplish a complex read of race and class along music technological analyses, however he certainly opens up that possibility for future inquiry. In chapter 2, Hitchins includes a brief section outlining an inaccurate assumption by Lloyd Bradley about producer Stanley Motta which relied on caricatures of race and class. Hitchins draws the reader's attention to Motta's actual practices but he does not fully engage the complex relationships between music, economics and race, other than saying these issues are still largely unexplored (46). He successfully addresses identity and power by considering Jamaican and international recording practice differences and does not shy away from the intra-Jamaican bias against dancehall, although I would have preferred a deeper contextualization of Jamaican class structure. While Hitchins has clear goals and consistent themes, his chapters consider different objects without a simple recurring pattern. Forming two or three distinct book parts would potentially give readers an original organizing principle for the unique examples he presents.
I think the organization and precision of his work will inform future studies on JPM and production. In chapter 7, Hitchins explains the riddim production method, a process by which the audio engineer places all pre-recorded information into the mixing console, then makes specific decisions about what to mute in response to the vocal artist's contributions. As songs became more driven by the audio engineers, their relationships with producers changed. For example, Cleveland Browne and Wycliffe Johnson were dissatisfied with producer Lloyd James (Prince/King Jammy) who had assumed full ownership of a music production they had created under a verbal work-for-hire contract (151). At a recording session, they retaliated by refusing to assume their roles as music creators and instead asking James to dictate what they should play (151). Musicians and audio engineers faced similar grievances with producers who had money but often little musical knowledge (150).
In my research, I see potential for Hitchins's work to be applied to other artists like Peter Tosh who struggled for fair compensation and credit with those who had recording power and ownership of music creation. Applying Hitchins's work to Tosh's experiences not only considers how music technology produces new sounds and creation strategies but also asks how producers, musicians, singers, audio engineers and other actors negotiate power through that technology. In the early 1970s, Tosh recorded a song with Joe Gibbs called "Maga Dog" (Masouri 2013, 89). The song sold 75,000 copies and was highly successful. However, Tosh became infuriated by Joe Gibbs' use of emerging riddim aesthetics when he had "taken the rhythm of 'Maga Dog' and issued several different cuts to it, giving them names like 'Skanky Dog', 'Mangy Dog', 'Boney Dog', 'Hot Dog' and 'Bull Dog'" (Masouri 2013, 91). Tosh, who wrote the song and played guitar, piano, and organ on the song, already felt he had not been properly compensated for 'Maga Dog' (Masouri 2013, 91). His mounting frustration can be compared to the anger of dancehall audio engineers who felt that producers did not properly compensate them. Hitchins ends his book by declaring the urgent need to recognize the significant creative role of the audio engineer and gather the oral histories of important contributors (218). For me, this call extends to highlighting the stories of singer-musicians like Tosh who make similar contributions and go uncredited. 
Review by Racquel Bernard